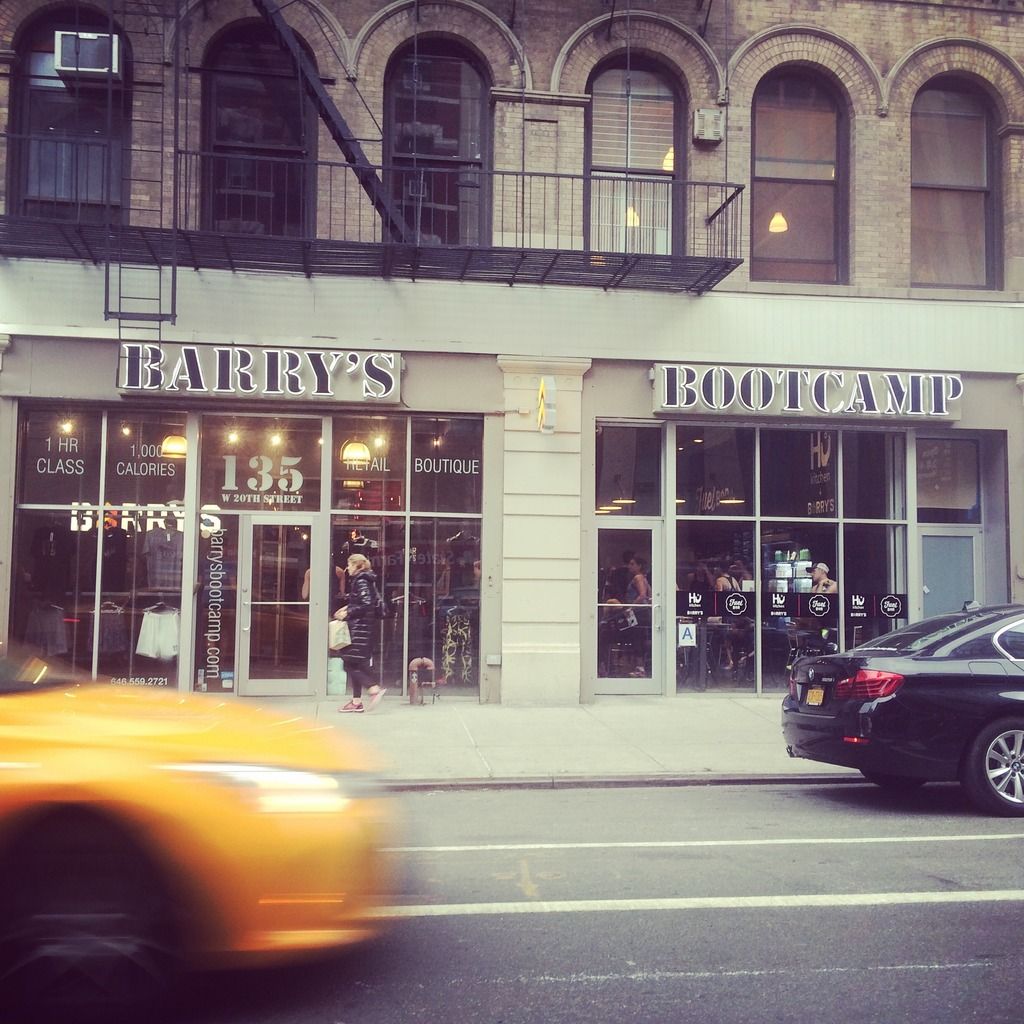 I get really enthusiastic about boutique fitness. I feel so good after classes, and never work myself hard enough in the gym. I bought a week of Barry's Bootcamp classes the night before I flew to New York – their 'Silver Weekly Membership' means 8 classes in seven days. If you have ever tried Barry's Bootcamp you will be aware that that isn't easy – particularly when you haven't done it for a while.
Kelly Brook took me to the original Barry's Bootcamp in West Hollywood for the first time in February 2004. I loved it. Barry himself used to teach us. Now it is a global fitness phenomenon it's probably very hard to get into one of Barry's own classes. He called us 'The Parsons Twins' – and we went every weekday at 7am. Sometimes I used to drive to her house and drag her out of bed, I loved it so much. I remember the buzz of after exercise I rarely focus on the fact that the class is hard as hell.
Barry yelled and shouted, if anyone was slacking from the incline and speed he required he would be over at your treadmill adjusting it himself. If you were late for class he would make you run the stairs outside. Sometimes we would run from the treadmill to the bathroom to catch a breath for a moment- this was also unacceptable and could result in punishment. It was hilarious.
Let me set the scene for those who aren't familiar – dimmed red lighting, music blaring, instructor with a headset, no air conditioning. Premise is 50% of the hour long class is spent on the treadmill, and the other 50% is spent on the floor with weights. Word on the street is you burn 1000 calories in an hour at Barry's. Now to do that you have to WORK – you have to push, use the high speeds and the challenging weights.
As much as I'm drawn to boutique fitness I'm heavily drawn to a good website – and picking a starting treadmill or floor space as easily as you can select a cinema seat, and ordering a protein shake at Barry's Fuel Bar to be ready for after class – is always going to bring me back!
Here is my Barry's Bootcamp diary.
Monday
Time – 8.20am
Instructor – Noah N
Class Focus – Arms and Abs
I started on the treadmill – you can choose your starting point when you book on the website – even down to where you want to be in the room. Three minutes in, I began to second guess myself and panic, I was already feeling it. We spent 17 minutes running – incline running from 4% to 6% and back again – increasing speed and including 45 second sprints at 8, 9 or 10mph.
The floor workout consisted of tricep extension, shoulder press, bicep curls, bicycle kicks, burpees, mountain climbers – 3 to 4 minute circuits each time. The weights vary from 5lb to 65lb. I chose to use 8lbs and most of the women in the class chose the same – half an hour with them is a good length of time.
Back to the treadmill for a final 8 minute run – that included more incline sprints. The feeling of your legs moving when you can no longer really feel them is an interesting one. My body was in total shock – which fully kicked in when we moved back to the floor for one more circuit of ab work and burpees.
My post workout food –  Ten Grain Porridge with Apple Cinnamon and Almond Milk from Cookshop 156 Tenth Avenue NY. This porridge is my favourite breakfast in New York. I had a headache all day – I always do when I push myself harder than my body is expecting. Litres of water needed.
Tuesday
Time – 8.20am
Instructor – Matt N
Class Focus – Legs and Butt
13 minute run on the treadmill opened the class. No incline just sprints. Also running with high knees and kick backs. I was feeling more in control.
Floor session – squats, backward lunges, side jumps, forward jumps. I used 12lb weights today.
Back to the treadmill this time for a longer run. This is where I lost my perceived control and could barely function. Incline running up to 12% at 7, 8 or 9 mph. We reduced the incline to 6% and 3% still keeping the same speed and then went back up to 12% for another minute. It hurt – it really hurt. We finished on the treadmill with sprints and recovery for 4 minutes.
The second floor section was with resistance bands, kick backs and ups, squats and jumps from sitting. A really hard session today.
My post workout food – A shot of Apple Cider Vinegar diluted with water. Banana, greek yogurt and protein powder.
Wednesday
Time – 8.20am
Instructor – Kenneth F
Class Focus – Chest Back and Abs
The first treadmill run was for 12 and a half minutes. No incline but sprints and extended runs. We had to chose a base jog speed and take it up 2 and a half mph from there and then back down again. It felt so hot in there today. I really struggle to stick to the strict speeds and times. Three days in a row has probably made my body a little tired because it is a very intense workout!!
I found the floor work hard today because of the areas of the body we were working – they definitely aren't my strongest. Using two 15b weights, as suggested for women, we did a mixture of chest presses and upright rows, rows from press ups on the floor, planks and holds.
The second treadmill run was longer and of course included incline. Today we went to 6% incline but for longer periods of time. You aren't held at a ridiculously high speed or steep incline for any more than a minute but it's the recovery 30 seconds afterwards that hurts because it's still in a run.
My post workout food – Mango Madness Smoothie with Vanilla Whey Powder from Barry's Fuel Bar
Thursday
Today was the dreaded double. The silver membership meant that one day this week was going to have to be two sessions. Thankfully every instructor has their own style and own routine so you still get a varied workout when you double up. I was so tempted to do a 'double floor' (no treadmill) on the second workout but when the class was over I would have regretted it.
I've hurt my hip – I have a pain running from my hip down the back of my leg to behind my knee. I've always had a bad hip when treadmill running – it's so strange because I never have any problems when I'm running outdoors, it would make more sense for it to be the other way round.
Time – 8.20am
Instructor – Matt N.
Class Focus – Abs
Today was structured into 6 rounds, three on the treadmill, three on the floor. I quite liked it because although the runs were intense they were shorter. The first run was an incline run at a set speed I chose 7mph – we worked our way up to a 12% incline. The second run incorporated more sprints, and a lesser incline..
The three floor workouts were with resistance bands, weighted balls – with which we had to spell out the alphabet with outstretched arms – and the last round was with no weights but lying back on the bench with straight legs writing out each letter again. It's surprisingly difficult! Crunches, jackknife sit ups, bicycles and weighted abdominal twists.
The final run was 4 minutes long – we had to go as far as we could in the 4 minutes. Every minute we had to go a little harder and faster. Some people were doing 0.75 miles – that's pretty good going at the end of a hard class. I did 0.55 miles.
My post workout food – Ten Grain Porridge with with honey and almond milk
Time – 5.30pm
Instructor – Harley R
Class Focus – Abs
Harley is different to the other trainers I've had this week, he is a little more snappy if people aren't listening! The class was packed and you really have to listen for instructions the whole time.
The class like this morning was split into 3 runs and 3 floor circuits. I had loads of energy. I had eaten pasta two hours before – I have a real habit of working out on an empty stomach – but actually eating before makes me far more energised. One of the trainers at New Wave Crossfit, Mark Goodwin, looked at me like I was in the wrong facility when I told him I never ate breakfast before class! From now on I will!
The running felt far easier today – had my hip not been causing me aggravation – I actually would have really enjoyed it. It's amazing how quickly the body adapts to running when you push it for a few days. I was doing sprints at 9mph – you always know the maximum sprint time is 60 seconds before you can take your speed back down to around a 7mph – so it's always do-able.
The floor workout consisted of hammer swings, mountain climbers – doubles and single legs, a variety of planks, and sit ups using 15lbs.
The final run was again a 4 minute run, as fast as possible.
My post workout food – Almond Milk, Banana, Peanut Butter, Cocoa and Chocolate Whey Protein from Barry's Fuel Bar
Friday
Time – 8.20am
Instructor – Noah N
Class Focus – Full Body
I struggled to get up today. Really struggled. I never sleep for 8 hours but I did – doing so always seems to slow me down! 40% of me was tempted not to get up and go to class, but I always feel terrible if I don't show up to something, it sets a bad tone for the whole day!
Well today was Barry Jay's traditional class style that I was always used to of 30 minutes on the treadmill in one go, and 30 minutes on the floor in one go. Having adjusted to the shorter segments this week I did find it difficult!!! It was a fully varied run with jogs, runs and sprints – mostly at a 2% incline as a base and working up from there – the top incline we did was 10%.
On the floor, as it was a 'full body' day, we did everything from chest presses, to squat pushes. It was varied and hard, mixing cardio and strength training. We did lots of mountain climbers, high knees, backward lunges, and ab work.
My post workout food – Granola with Almonds and Vanilla (far far too sweet)
Saturday
Time – 9.10am
Instructor – Rebecca K
Class Focus – Full Body
As though my body knew it was the weekend, I didn't want to go to this class – it turned out to be my favourite one of the week. The pain in my hip has eased off a bit and I loved Rebecca's style of teaching – it was very challenging but I got through it without being a wreck.
First treadmill run was speed based. It was the shorter of the two runs today – approximately 12 minutes with no incline – sprints and recovers.
We moved to the floor and started with some yoga based moves which felt so necessary after this week. I used two 10lb weights for backward lunges, with press and curl. We did sumo squats with a bicep curls, jackknifes, planks, side planks and planks with a step forward.
Back to the treadmill for potentially the hardest run if the week. I've established incline is harder for me than speed, and sadly for us this run mixed the two – which is the worst combo of all. We were on there for 17 minutes, with the lowest incline being 2% and the highest incline 10%. We maintained the same speed at 2%, 4%, 8% and 10% for a jog, then repeated with a run, then with a sprint.
Back to the floor for isolated biceps, backward lunges holding a weight up in the air with one straightened arm – which is great for strength and balance. We finished with ab work. Felt amazing after this class.
My post workout food – Truffled Scrambled Eggs on Toast with Prosciutto from Cafeteria 119 7th Avenue
Sunday
Time – 9.10
Instructor – Josey G
Class Focus – Full Body
It was -16 degrees walking to class today!! I was so tempted to stay in bed!!! Top tip if you go to the New York Chelsea Barry's don't choose 'Treadmill 22' – the speed controls are a little bit stuck and when you are trying to bring your speed down after a sprint you want to do it as quickly as possible! We did three rounds of floor and treadmill. The final run was unachievable for me today – 4 minutes running increasing speed and incline equally ending on a minute of 9mph at 9% incline.
We did single arm press up rows on the floor, chest press, lunges, squats, tricep press ups.
My post workout food – Mango Madness Smoothie with Vanilla Whey Powder from Barry's Fuel Bar
I feel so happy to have completed the week – I was determined not to miss a class. I am always so regretful when I make an exercise plan and then skip it. You never regret exercise once it's done. It was a really difficult week but I would do it again in a heartbeat.
If you don't live anywhere near a Barry's Bootcamp, try this 30 minute treadmill workout from one of the trainers at Barry's Bootcamp Alycia Steven, as suggested by 'Popsugar'. Stick to it- the exact inclines and speeds she suggests- because that's what works. Treadmill running can be so hard to get motivated for – but in Barry's Bootcamp the time honestly flies by – because pretty much every minute something is changing.
For more information on studio locations and timetables – http://www.barrysbootcamp.com