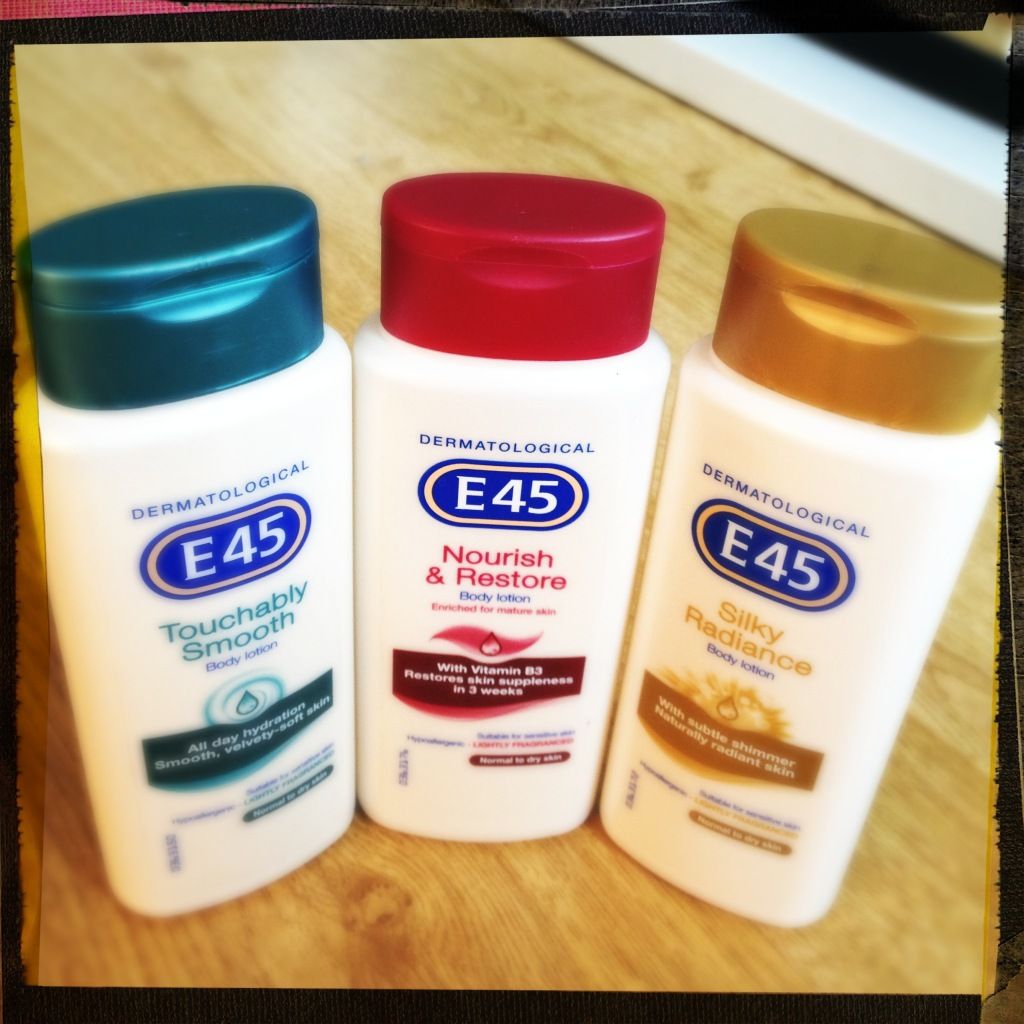 Absolutely loving the three new body moisturisers in the E45 range. We as a nation are sensitive skin sufferers, reportedly almost 50% of us have sensitive, overly dry skin, or easily irritated skin.
I for one have dry skin on my legs, but am lucky not to be someone with particularly sensitive skin. I am a little lazy with moisturising my body however. I hate applying a body moisturiser, and then getting dressed, or getting into bed and feeling the moisturiser transferring all over the sheets. I absolutely detest pulling on a slim jean over a heavily moisturised leg.
These moisturisers sink straight in, they smell fresh and clean, and are fabulous for sensitive skin. My personal favourite of the three for use in the day is ' Silky Radiance'. I love a healthy glow from skin across the chest, and on arms and legs. It's the perfect summer moisturiser, and would look lovely over a tan. The photo of my hand below shows the subtle gleam from 'Silky Radiance'. I wouldn't choose to use this one before bed, I would prefer to use one of the others without the shimmer. The shimmer is wasted whilst asleep!
E45 Silky Radiance – A hydrating body lotion with a subtle shimmer and natural light boosters for radiant skin.
E45 Touchably Smooth – The bottle with the green lid will give you all day hydration, resulting in super soft, smooth, healthy skin
E45 Nourish and Restore – Most suited to mature skin – although that to me just implies more added moisture  – so perfect for my legs. It contains Vitamin B3, with the suggestion that it restores suppleness in just 3 weeks.
Links
Currently 3 for 2 at Boots
http://www.boots.com/silkyradiance
Also in supermarkets, chemists, and apparently Superdrug. Superdrug is not currently displaying it on their website. I love Superdrug, but more often than not their website is far less enjoyable than a visit to the actual shop (apart from when you leave your phone on the counter, and never see it again).