The Eve Taylor candles are made from 100% organic plant wax – soya. The wax has a low melt point which means that you can scoop out the melted wax – without burning yourself – in order to use it to moisturise the body, or for massage.
I burn the Eve Taylor candle at night on the table next to my bed, and read for 20-30 minutes – or watch Big Love – which is what I do every night at the moment! Once the wax has melted, I rub it into my hands, feet, chest, and shoulders.
I wrote a blog in March about sleep, relaxation and pressure points. I have learnt from the very wise man Paolo Lai, who does my reflexology, which points to press when I'm having trouble switching off and relaxing. The point drawn in pink on the picture of my palm below, is one of these – the solar plexus – and I always focus on it when rubbing the wax into my palms.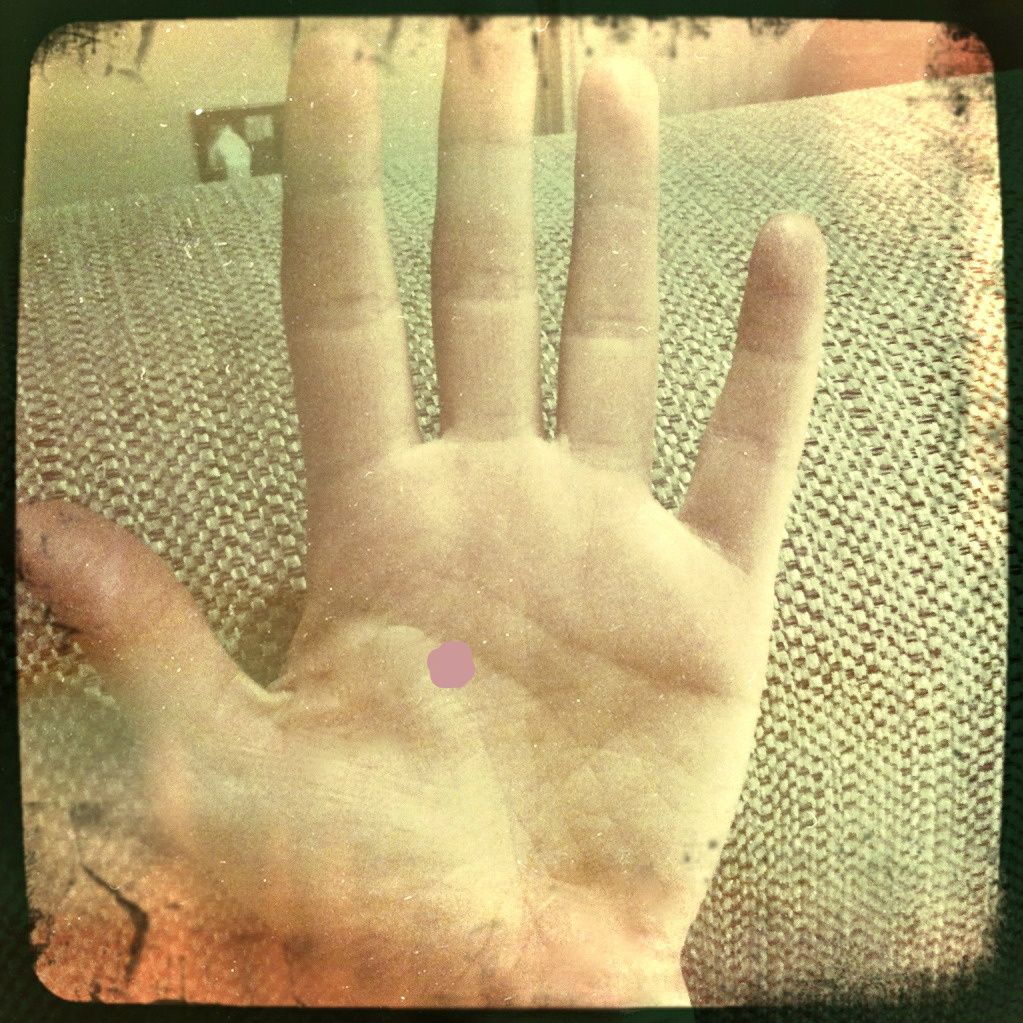 The wax doesn't leave a greasy feeling as a body oil might – depending on the quality of it of course – the candle's wax feels exceptionally nourishing, and in particular leaves my very dry hands extremely soft.
I am really excited to try more of the scents, patchouli is one of my very favourite scents, as is lavender. From what I can gather 11 scent options are currently available in the Eve Taylor candle range. I tried to buy the 'Wild Fig and Grape' candle in a beauty salon in Malvern, but the lady took cash only, and I only had my card, the scent was heavenly – maybe I will try it next. The current candle that I am burning is the rather festive Orange and Clove. It is described as uplifting, but I find it decidedly relaxing.
Top Tip- Burn by the bath, and use on warm skin as an all over body moisturiser.
Links
For the UK the option for buying online is http://www.tenderlovingskincare.co.uk/evecandles (use the code 'blusher' at checkout for a 10% discount)
In Ireland the candles are priced at €18.25 and can be bought on Ireland's Eve Taylor website http://www.evetaylor.ie/candles although it may still be cheaper to buy at Tender Loving Skincare as above.
Contact Eve Taylor worldwide for stockist information http://www.evetaylor.com/worldwide