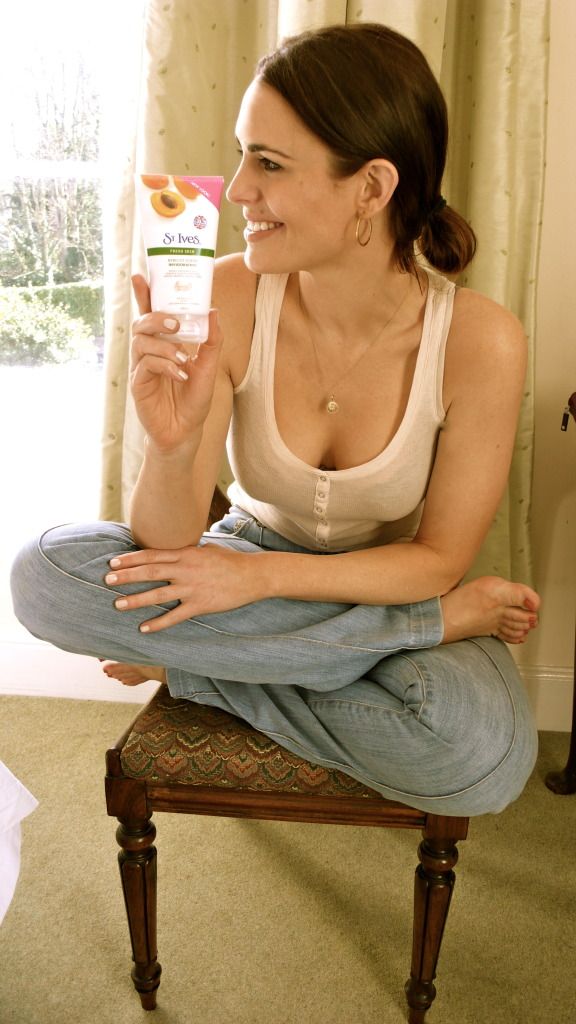 It has amazed me how many friends of mine, have messaged me this week telling me that they have been using this product for years!Where have I been? The feeling is addictive. It's so perfectly grainy.
I hate a feeble exfoliator. My friend Lucy has also recommended that I try the body scrub version of this – both of us aren't fans of body scrubs that aren't really scrubs at all – more just a gel with a few granules floating around.
I left this in the bathroom last week, and asked my friends,who I was staying with from the theatre, to try it too. The results were unanimous. Great scrub, great value.
I used it every second morning whilst in the shower. I had a cold, and my skin felt a little more sensitive than usual, especially around the bottom of the nose, so I avoided that area. Exfoliating over angry skin, broken skin, or even painful spots, isn't something I would personally do, and therefore wouldn't recommend.
I ran through the range of Apricot Facial Scrubs, in last week's blog, and suggested which scrub would work most effectively, for which skin type.
There are four to choose from; Invigorating, Gentle, Firm and Renew, and Blemish Control. I chose to use the 'Invigorating' version for the week, and I promise you, once you get into that shower and start to scrub, it's hard to stop. It also smells divine – very fresh.
My skin looks good, and clear, after the week of using the scrub. I do exfoliate anyway. I consider exfoliation to be a very important step in my skincare regime, I always have. By removing dead skin cells, that sit on the surface of the skin, products can be absorbed more readily, and skin looks brighter.
The Invigorating Apricot Scrub is currently on offer in Superdrug for £1.97, for the length of time this is going to last you, it is an essential buy. They appear to have no stock left online, but this often happens with Superdrug. They will have it in-store. The Blemish Control Apricot Scrub is also currently £1.97, and the Gentle version – that is suitable for daily use – is currently £2.47. The RRP is £5.10, so if you do want to give one of these scrubs a try, then this is a very good time to do it!
The St Ives Invigorating Apricot Body Scrub is currently also on offer in Superdrug for £2.55. I haven't tried it as yet, but I have been using the face scrub, across my chest and shoulders.
St Ives Products – http://www.superdrug.com/stives