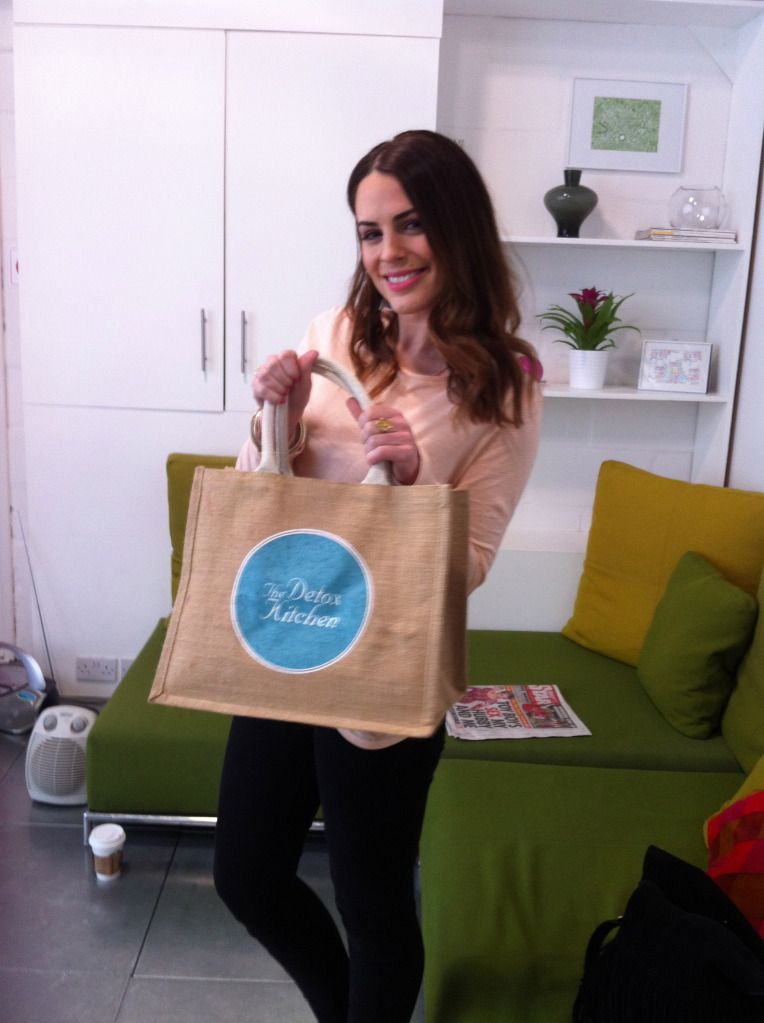 Very exciting proposition from a friend of mine – to try The Detox Kitchen – for five days. In return, for the new company, they wanted feedback. I decided to write a blog instead.
Currently they deliver to London only, but there may be a similar service in other regions, it may be worth having a google if it's something that appeals to you. Or indeed, put pressure on The Detox Kitchen to expand!!
I live in Surrey, which is out of their usual delivery zone, so I decided to pick a week that I would be in London, working on The Wright Stuff, from Monday through to Friday.
I can confirm, enthusiastically, that I have never detoxed in my life. Quite shocking really. I embarked on 'The Master Cleanse' once – it lasted about five hours, I felt horrendous. The master cleanse, is a programme that advocates drinking water, with fresh lemon juice, cayenne pepper, and maple syrup. And that is it, that is the diet – not the healthiest perhaps!! Not for me anyway.
Day 1
Shot of the Day – Pomegranate Juice
Breakfast – Porridge Oats and oat milk with blueberries and raspberries
Snack – Beetroot, carrot, celery and apple juice, and a small pot of walnuts
Lunch – Green Papaya, Asparagus, French Beans, cherry tomatoes, hazelnuts and an orange and ginger dressing
Snack – A pot of edamame beans
Dinner – Grilled Scottish Salmon Fillet with pepper, garlic and a buckwheat salad
Snack – Granola cooked in coconut milk with flaxseed, grapes and dried pear
Notes – I also received four Pukka Herbal Teabags in this Monday's package, and some fresh mint for mint tea, Psyllium Husk – to last me all week – they call it a wonder powder, acting like a broom in the colon. Also supplements from Biocare for the week, each day you are recommended to take; 1 Bio Acidophilus, 2 Linseed Oil 500 Capsules and 1 Biocare Adult Multivitamin & Minerals
Day 2
Shot of the day – Beetroot Juice
Breakfast – Carrot, raspberry, and apple juice. A small pot of brazil nuts.
Snack – Hummus with celery and cucumber batons
Lunch – Puy lentils with aubergine and celery
Snack – Apricots, blueberries, goji berries and sunflower seeds
Dinner – Root vegetable tagine with yellow peppers
Snack – Apple and raspberry bake with Agave syrup
Notes – Genuinely wasn't hungry when I went to bed – which actually in day to day life is quite rare for me. Only thing that would be so helpful is a disposable fork in the bag. I was very hungry in central London, and eventually went to a Pret and asked for a fork there. Also provided fresh mint, and four pukka herbal tea bags
Day 3
Shot of the day – Wheatgrass
Breakfast – Kiwi, blackberry, and apple juice with a little pot of cashew nuts
Snack – Avocado, celery and red peppers
Lunch – King prawns with sesame and soy vegetables
Snack – Blueberries, raspberries, and pumpkin seeds
Dinner – Roasted squash and beetroot with pesto asparagus and quinoa
Snack – Baked pear with cinnamon and nutmeg
Day 4
Shot of the Day – Beetroot
Breakfast – Cataloupe melon, kiwi fruit, and a little pot of sunflower seeds and cacao nibs
Snack – Carrot, pear and apple juice
Lunch – Roast chicken breast with a bulgur wheat and green vegetable salad
Snack – Cherry tomatoes with rocket and flaxseed
Dinner – Butternut squash and parsnip soup
Snack – Strawberries and mint
Tea – Fresh Mint, as well as four 'pukka' herbal tea bags
Day 5
Shot of the Day – Wheatgrass
Breakfast – Porridge Oats with oat milk, blackberries and raspberries
Snack – Papaya, carrot and apple juice, and a little pot of brazil nuts
Lunch – Pearl barley with broccoli and peppers
Snack – Pomegranate, blueberries and dried mango
Dinner – Grilled cod fillet with root vegetables Thai spiced curry and brown rice
Snack – Baked apple with cinnamon and nutmeg
Tea – Fresh Mint, as well as four 'pukka' herbal tea bags
Very strange feeling by Friday, I was positively hyper. I almost had too much energy. It was as if my body was operating at it's optimum level. Considering I had been getting an average of 5 and a half hours sleep each night, I was really quite taken aback by the feeling. I turned to Amanda, who helps us dress at Murder on The Nile, during a quick change, and said I don't know what's wrong with me I feel amazing. She looked at me like I was completely and utterly insane.
On another note, I lost 3 and a half pounds, in the 5 days.
It's not cheap, but I would highly recommend this before a holiday, an occasion, in a very busy week, or for a health kick. The food was delicious. I tried the same type of delivered food service years ago – not a detox – but healthy eating, and I didn't particularly enjoy the food.
The other great thing was that the meals were as delicious cold as they were hot – very helpful if moving around and not near a microwave, oven or hob! The only thing I would say to The Detox Kitchen is throw in a plastic fork, just incase! One day I was on Oxford Street, absolutely ravenous, running in and out of EAT and Pret a Manger, desperately trying to steal cutlery without buying anything!!
The Vegan Box £29.99 per day
The Protein Package £35.99 per day
 www.detoxkitchen.co.uk – the link to their very impressive website.