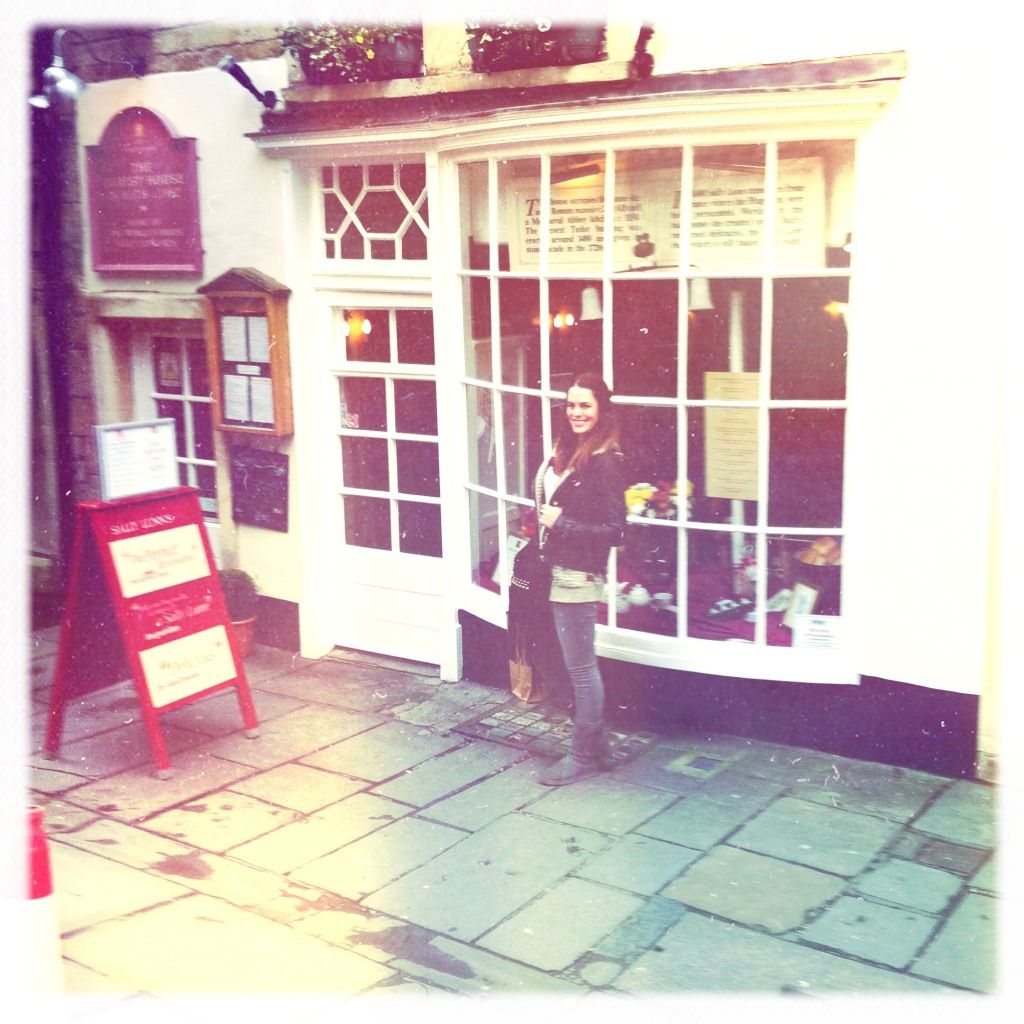 I have been in Bath this week, with the play 'Murder on The Nile'. It's our first stop on the tour, after my very close to home, town of Windsor. This is one of my very favourite cities in the UK. It is only my second visit here in recent years, and I'm going to come back much more often.
My highlight of the week, was the tearoom 'The Bath Bun', so quaint, fabulous cakes and jacket potatoes, and a really tiny downstairs where we were sitting. My best friend and I sat there all morning, there is something about it, I won't forget.
Another thing I did in Bath this week was visit their renowned Thermae Spa. Fabulous facilities, but sadly in my opinion, too commercialised to be relaxing. It was really quite busy, and this wasn't on a weekend day, this was at midday on a Tuesday. I've just looked at their website and the images of their pools look very different without crowds of people in them.
My first stop in the lift was at floor number 2 – the steam room floor. Four circular glass steam rooms, surround a central waterfall shower. The steam rooms are very impressive, colour coded and fragranced. I went from one to the other, stopping in the central waterfall shower on the way. Sadly after the second steam room, the fabulous waterfall shower had stopped working. It started working again about 15 minutes later as I was leaving the area.
The steam rooms were very relaxing, perfect heat, perfect scent. Perfect apart from the chatter. One lady to my right was running her friends, at volume, through the dinner party she hosted the Saturday before. Something to do with dipping raspberries. In the third steam room I sat in, a ladies voice was so loud, it was as though she was talking in a nightclub.
It is obviously not the spa's responsibility to monitor who is talking and at what volume, but I do like a spa that encourages relaxation – music would be helpful, and maybe some guidance to keep chatter as low volumed as possible.
The top floor of the Thermae Spa is an open air pool with views over Bath. Definitely my favourite part of the whole experience. I love being in a warm pool with cold outdoor air. Floats are provided. I thought the water was simply chlorinated, but the guide I picked up is telling me I'm wrong, that the water is indeed 'mineral enriched'.
The changing rooms are unisex, that would never bother me particularly, there are cubicles to change in. It did take me slightly by surprise, but it's nice for couples and families. The showers aren't on the same floor as the changing rooms – as I was changing I heard visitor after visitor saying out loud what I was thinking – why? Apparently the reason being they didn't want damp floors in the changing room.
The showers downstairs, are again cubicles. There was no where in a cubicle, to put a washbag, and keep it dry. I chose to shower in the open area with my washbag on the dry corridor opposite me. Man after man walked past. So the showers are unisex too! Very open here in Bath! Maybe there was a private area, with a ledge to put washbags on – maybe I just never found it.
I would recommend the spa much more, for groups of girls, or couples, not particularly for someone alone, wanting to relax. Prices start from £26.00 – which is for a 2 hour session.
Another little place, I've been into every day since discovering it, is Jacob's Coffee House. It's about 150 metres away from the Abbey, and serves the best Chai Latte I've had in a long time. It's the perfect place to sit down, have a drink, and do some blogging.
The Bath Bun – 2 Abbey Green, Bath, BA1 1NW Tel: 01225 463928  http://www.thebathbun.com
Thermae Bath Spa – The Hetling Pump Room, Hot Bath Street, Bath BA1 1SJ  Tel:  0844 888 0844 http://www.thermaebathspa.com
Jacob's Coffee House – 6 Abbey Churchyard, Bath BA1 1LY Tel: 01225 758132  http://www.jacobscoffeehouse.com
X