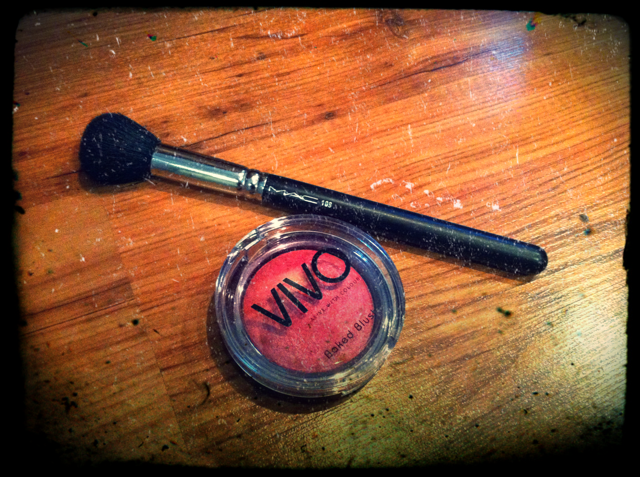 Well I have to tell you, I am completely obsessed with a blusher that I received in a goody bag earlier this week.
Vivo Cosmetics launched an exclusive line in Tesco that they say celebrates 'being alive with colour'. They call themselves the 'MAC of the supermarket make-up brands'. Believe me I have many a blusher, and many that are even waiting to be opened, and yet I tore the plastic seal of this one straight off.
£4.00 per 'Baked Blush' and £5.00 per 'Baked Bronze'
The baked blushers with pink undertones are available in four different colours; Peaches and Cream, Rosy, Cinnamon Glow and Rouge Shimmer
The baked bronzers with gold undertones are available in three shades; Sunkissed, Bronze and Healthy Glow
Sadly the products don't appear to be for sale on the Tesco website as yet, even though they were launched there exclusively in September. I really wanted to look into the rest of their range.
It's interesting that they have billed themselves as the 'supermarket MAC' because their baked blushers are very similar in appearance to MAC's 'Mineralize Blush' – a blusher that the manufacturer also describes as 'baked' but retails at a higher price of £19.00. It's well worth seeing if the £4.00 one would do instead! I probably wouldn't be so keen to compromise on a good brush, I really like my MAC 109, and Daniel Sandler's blusher brush.
Having made the comparison on the blushers I have always been a huge fan of NARS' blusher 'Sin', and there was something about the 'Rosy' Vivo baked blusher that on first glance reminded me of it – I think that was what excited me enough to rip it immediately out of it's packaging.
Blusher fans – for £4.00 please make a trip to Tesco and let me know if you love it too. I am concerned if the products are not on the website maybe only the larger Tesco's will stock it. I am very keen to get to a store myself and pick up a Peaches and Cream shade to try out.
On another note, great stocking fillers….