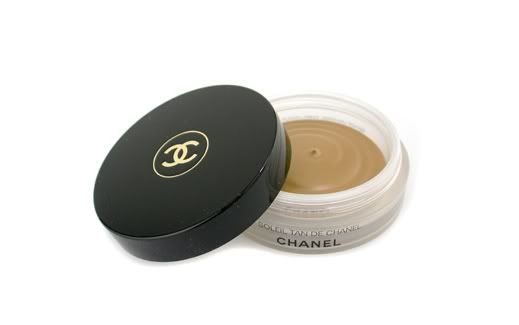 They call it a bronzer. Calling it a bronzer is underplaying it. This is one of the most valued items in my make up bag. It is neither a bronzing powder, nor a bronzing gel  – it's a make up base – that looks fabulous on bare skin, or over foundation, or tinted moisturiser.
This product is so good, I once sold out the Chanel counter of it in Heathrow Terminal 1, when after months of searching, it was finally back in stock. My excitement was so immense, the three strangers who were shopping at the same time as me, all bought one. I had wanted to buy it for my friend Lucy, as part of her 30th birthday present. Her birthday in March was fast approaching, and the months of trying to locate one were rapidly passing me by.
I half feel that Chanel must keep it out of stock for half the year on purpose. I believe we are in another phase of it being difficult to get which is frustrating. But it is well worth the search.
Chanel describe it as a 'light cream-gel bronzer that leaves your skin with a beautiful sun-bathed look'. I use it, or have seen it used, in a few different ways.
I apply a light foundation or tinted moisturiser, and then add a little 'Embryolisse' cream into the bronzing palette – literally on top of the bronzer. With a foundation brush, I brush the moisturiser over the bronzer – which is fairly firm – then apply and blend wherever I want a little colour. This method gives a fabulous glow, and the bronzer is diluted down so the look is very natural.
In the stores they seem to recommend using a regular bronzing brush, and in effect using it in the same way you would a normal bronzer. It can also be blended on with fingers. It is hard to go wrong with – it's very versatile.
A few of the products in their bronzing range are called similar things – so be careful you aren't sold one of their regular bronzing powders – as I nearly was on one occasion. It only comes in one shade, so that part is straightforward at least!
A 30ml tub which lasts ands lasts costs £31.00 in Boots.
http://www.garden.co.uk/php/showProducts.php?plu=0611801
http://www.boots.com/en/CHANEL-SOLEIL-TAN-DE-CHANEL-BRONZE-UNIVERSEL-Bronzing-Makeup-Base-30ml_920442/
I buy 'Embryolisse' online at Cult Beauty – it is £20.00. Aside from being a great product to blend with this bronzer, it is also an excellent moisturiser, and primer.