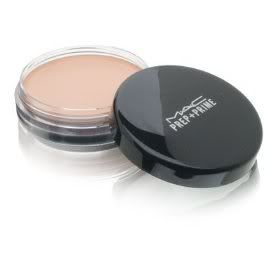 I used to use 'Brule', the eyeshadow from Mac underneath whatever eyeshadow I would be applying. I still have it at home, and I haven't used it once since I discovered Prep and Prime Eye.
I tried a good selection of Mac's Prep and Prime range. It's grown and grown since then – and this was definitely the stand out product, that I use faithfully every time I apply make up.
It evens out the eyelid. I like to use it, both on it's own, and underneath eyeshadow.
I never particularly had a problem with eyeshadow creasing, but that aside there is nothing better than an even base to apply eyeshadow over….and eyeshadow that lasts, and stays where it should.
This has never been recommended by anyone, I hasten to add, but if I'm in a hurry and it's close to hand, I would even use it as a concealer…. And under the eye.
I bought this for my friend India, who wears very natural make up. The last thing anyone would chose to buy for her is make up – to be fair she doesn't need it at all. But I was so confident she would love this, and she did. She returned the favour by giving me acid from America to put on spots – very grateful, I can hardly put it into words…
Mac offer it in three shades– light, medium, and medium dark. In my enthusiasm, I bought both the light and the medium, the medium is absolutely the better colour for me.
I also think for £12.00 it is a very worthy buy.
If I was told I could only put five products in my make up bag – this would be one of them. The basics are the essentials.
Prep and Prime Eye –