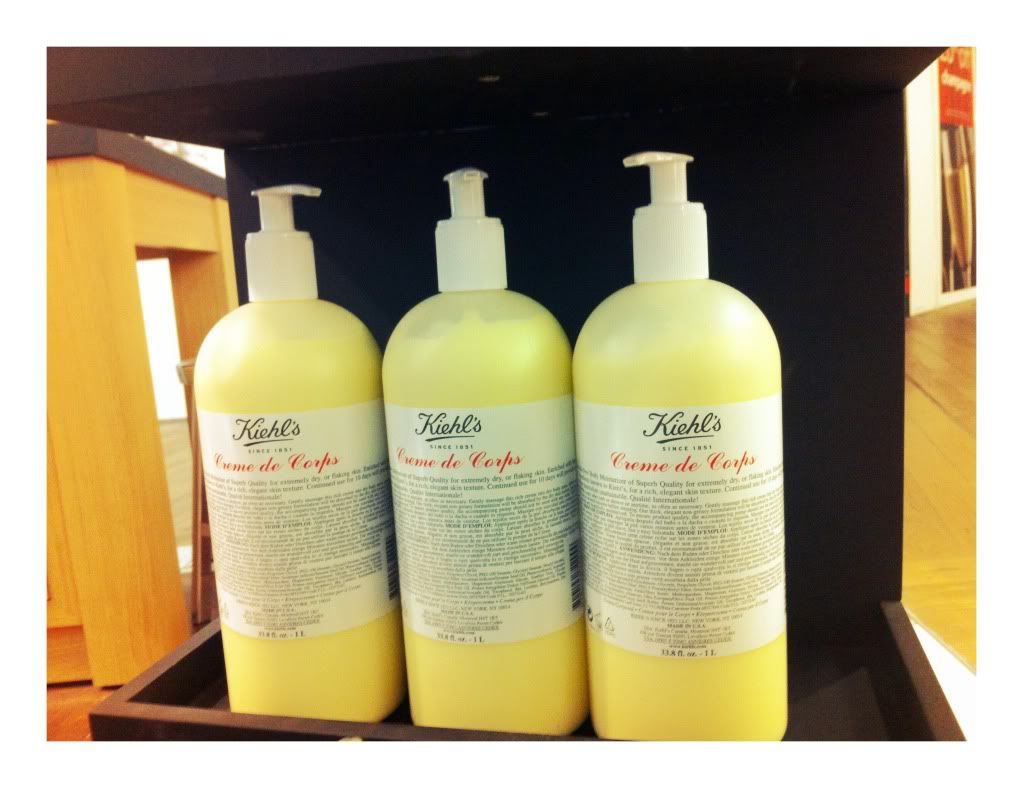 Creme de Corps is arguably the most famous product in the Kiehl's range, and for good reason. It's also, I would say, one of my very favourite cosmetic items.
This isn't a groundbreaking product suggestion! It's hailed frequently in articles and polls year after year, as their number one body moisturiser.
To be honest, I have never spent as much, or focused as much on body moisurisers, as I have on face and hair products. By the time you've covered your whole body – daily – you get through a bottle or tub so quickly. I always buy good basic body moisturisers . And one's that moisturise well while smelling gorgeous.
Now Kiehl's Creme de Corps doesn't really smell of much at all, and yet I am addicted to the stuff. I love the packaging. I love that you can buy it in whatever size suits your needs from 75mls up to 1 litre – as I pictured at Heathrow airport (above). I've only ever seen the 1 litre stuff in the USA before… if only I my baggage wasn't already 10kg over my allowance!
It also comes in a lightweight version, and lightweight version with SPF30. Absolutely love body moisturisers with the built in SPF – we should all be wearing it every day anyway – so built in just makes it easier.
The classic Creme de Corps contains Sesame Oil, Cocoa Butter and Beta-Carotene. '10 days' they say, and you notice the difference. On my body – it's my legs that need it very much – I'm missing it, having not brought it on my travels.
I sometimes use it, and an instant tan mixed together, for subtle colour and glow.
They currently offer – and this changes often – a Florence & The Machine labelled version. 100% net profits of the sales goes to the Teenage Cancer Trust.
This product is remarkably cheaper in the states, so if you are planning a trip anytime soon, I would say hold off and pick it up there.
UK Prices for the classic version of Creme de Corps –
75ml – £8.50
125 ml – £16.00
250ml – £27.00
500ml – £44.00
Find the full range with free delivery HERE