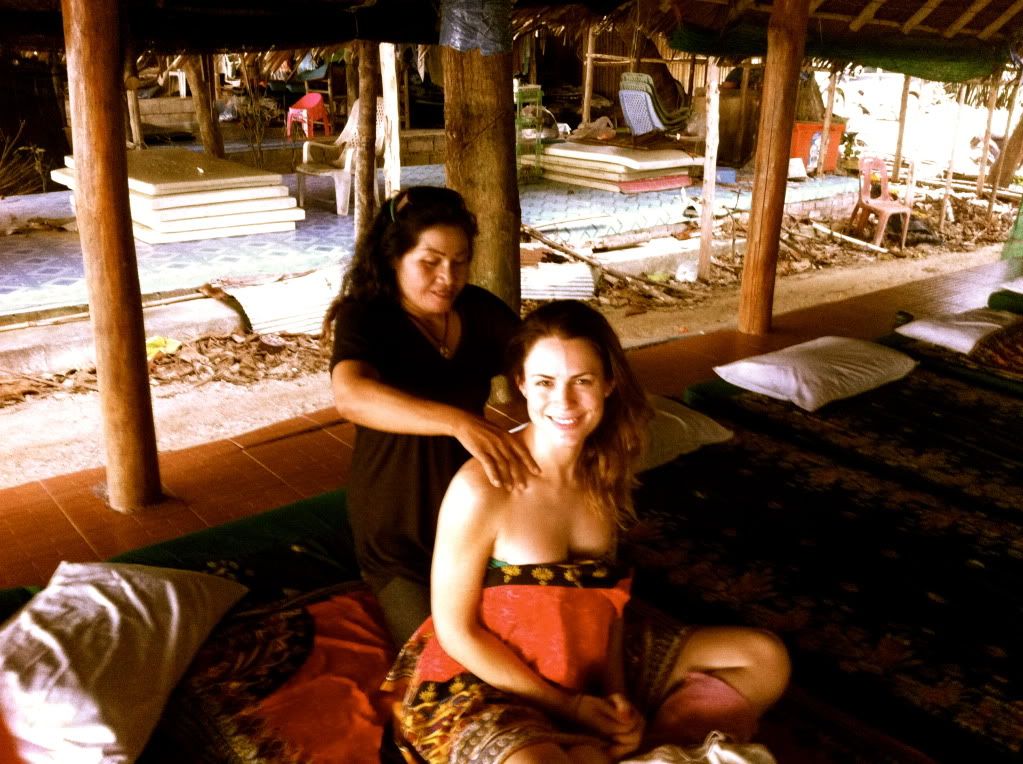 For anyone who enjoys massage and treatments, visiting Ao-Nang in Thailand, I came across massage corner today! Walking away from the main street up the beach, I saw huts to my left – 20 of them to be exact – numbered accordingly. I can imagine in high season, they are run off their feet but today I had my pick. They all offer identical treatments, and are completely open with soft mats and pillows on the floor.
I chose hut number 19, it wasn't the nicest laid out one by a long way – but the lady was really friendly. I had an hour long foot and head massage for 300 baht (approximately £6.50). I get the impression it's not always customary to tip here – it's always greeted with surprise and appreciation. The lady, at Sweet Lemongrass massage in Phuket, thought I had misunderstood the prices, and reshowed me how much I owed, incase I had accidently left too much. Personally I would find it essential – they work incredibly hard.
An hour's massage – Thai, Oil, Milk, Aloe Vera, Foot, Face – whatever you want really – costs no more than 350 baht here, going down to 200. There is so much competition for clientele. And the massage was great. It's hard to fully relax when there is quite a lot going on around you – but the setting is half the charm of it.
To find 'massage corner' as I will call it, the best description I can give is get onto the sand of Ao Nong beach from the main street that leads you to the sea, and walk to your left. You can't walk too far because a huge rock face won't let you!
The atmosphere here in Ao Nang, is very different to Phi Phi and Phuket. It's more family orientated, but when you walk down the street people from restaurants and shops do come out and try to get you inside. That's the first I have experienced of that here in Thailand. Maybe they have to work a little harder than in the other places, that are always busy, to keep their businesses alive.