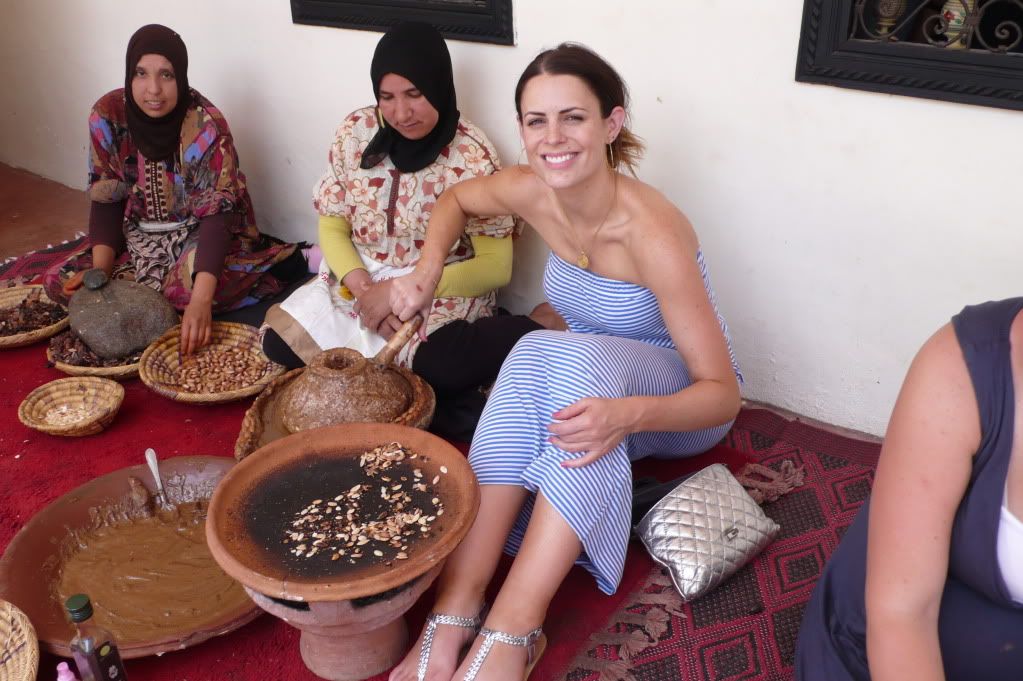 My friend Lucy was getting married recently, we had a weekend in Morroco to celebrate. The shopping in Marrakesh is fabulous, everything from pottery to beautiful leather bags. But one thing I bought there, that Lucy had already been using for many months prior to this trip in preparation for her wedding, was Argan Oil. Not Argan Oil mixed into products – 100% pure Argan Oil. She raved about it.
I sat with the women at an Argan Oil factory in the Atlas Mountains and helped them grind and press the Argan Kernals for the oil – it's hard work. It can take 10-12 hours to produce 1 litre of oil – I wasn't there that long!
The Atlas Mountains are the only place the Argan Trees naturally grow and that is why the oil is so rare. It's understandable that the oil is not particularly cheap.
Not only can you buy edible Argan Oil – that is prepared slightly differently through a roasting process for flavor – but it has multiple uses as a cosmetic product.
I've been mixing a couple of drops in with my moisturiser at night. You could choose to use it as a face serum under a moisturiser, or on its own. Because of it's natural properties it's considered to be a highly effective anti ageing product. It's completely free of additives. Argan Oil naturally contains many of the same "additives" that high-end cosmetics add synthetically to their formulas to achieve anti-aging effects.
It is fantastic for the hair. Can be used as a leave in hair treatment, or to smooth out the hair if applied once it is dried. I personally apply it to my wet hair after I have washed it – as a hair serum. I have noticed a huge – much needed improvement – and moisture boost, after having bleach in my hair for the first time in my life. It also speeds up the drying process, and gives your hair protection at the same time.
Often the products you find claiming to be Argan oil – particularly in market places – even in Morocco, won't be 100% pure and it's important to buy from a good source.
To me the best website I have found – that ships worldwide – but is based in the UK, is http://www.purearganoil.co.uk – they charge £19.95 for 100ml. They also have endless information on it's extensive benefits and uses. What I love the most about this company is, that it is basically all they sell!
I am updating this post in March 2012. The Pure Argan Oil company is offering 10% off Pure Argan Oil, via the link below, so instead of a 100ml bottle being £19.95 it will be £17.95.