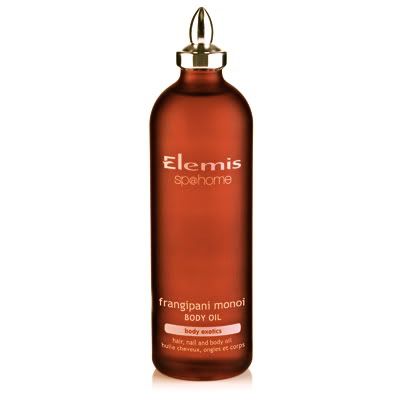 In my opinion Elemis' Frangipani Monoi Body Oil is pretty special. It isn't a take it or leave it oil, once you try it – and more to the point smell it – you take it.
The smell is heavenly – coconut coprah oil and frangipani flowers. It's also multi use. I use it on my hands, on my hair overnight, as well as on my body. It's used in many of the Elemis massages, that's how I first discovered it.
The slightly strange thing about the product is that it solidifies at cooler temperatures – even in my bedroom which is fairly warm – I usually have to warm the bottle between my hands until the oil starts to move – the more professional way to do it would be to put the bottle in a bowl of warm water. One of my friends nearly threw her full bottle away because she assumed something was wrong with it- I should have offered to throw it away for her 😉
The 100ml bottle which costs £34.00 lasts me ages, you don't need very much of it each time you use it.
I've just landed in Thailand, and I was thinking about a product of the week on the plane. For the first week, this was the obvious choice.
Find it HERE